Feb. 14, 2021, 6:29 a.m.
|
Public
This is babbling about psychology. Oh, I've taken Psych 101. But gosh, sometimes when you get clinical terms, they start to lose all meaning. "Oh, that's nice. …What does that really mean again?"
This is how I've been recently expressing myself. Baseline and amplitude. Gasp, that's the title of the entry!
Whatever a "normal" baseline is, it should be obvious that I have suffered from depression for most of my life. As in, my baseline is lower than "normal". As of the time of this writing, I would say my baseline is elevated. I feel pretty gosh darn good.
Oh, Pandora. Y'ALL READY FOR THIS.
AHEM. (You have no idea how staying focused is an intentional task for me sometimes. I go over there. :: points left and right :: )
Ah, but that right there demonstrates amplitude. The up and down range of emotion from whatever baseline is. The ability to FEEL.
A lack of amplitude is a lot like feeling like All Is Mashed Potatoes. I've been there. Just not being able to feel much of anything at all, good or bad.
Thankfully, that's not my headspace right now. I even have another entry stewing in my head. I'll have to check my notes. Yes, I'm that kind of scatterbrained writer who makes notes to himself to keep track of all the thoughts/feelings I want to express. I literally used to do my calculus homework in a Jersey Diner, and sometimes write in my personal carbon journal.
(Though, will admit I partially did it so I could say I did it. Don't worry, I always tipped well.)
Baseline, your average mood. Amplitude, how your mood can vary up and down given stimulus.
Huh, so simple.
After all, I definitely felt something negative upon learning someone is capable of committing treason. But, my baseline is strong enough that I felt it, and it rolled off me. Emotional fortitude?
I think.... that covers it.
Though, one more thing. Because Pandora.
U CAN'T TOUCH THIS.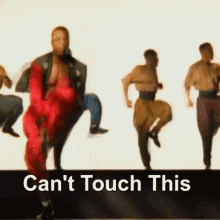 ---