Jan. 5, 2019, 8:25 a.m.
|
Public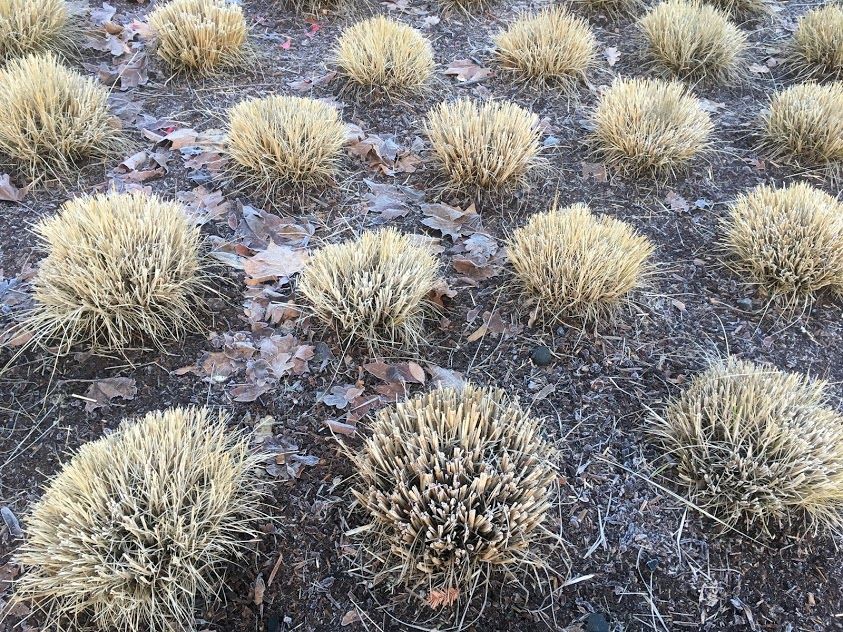 Cut back winter grasses with frost on New Year's morning across the street at the Under Armor campus.
So last week it was the appointment with the Ear, Nose and Throat doctor and the referral for the brain scan to check and make sure I don't have nerve damage. (That scan is scheduled for next week).
And this week it was the cats to the vet for their shots, including a 3-year rabies vaccination so I could get a certificate that allows me to get their licenses renewed and allows me to shelter with them in case of the necessity of evacuation that so many of us are having to address with the unfolding effects of climate change. Most Honorable came up and helped me get them in the carriers and acted as chauffer, for which I am eternally grateful.
Then yesterday it was the Audiology clinic for the fitting of my new hearing aids. I had to wait a long time while the new assistant got them set-up; the technology is mind-boggling. It was a long appointment at the end of a long week but I am thrilled to have them.
On the trail on the walk home I pulled out my phone and turned on a podcast and without any adjustments or toggles it started playing in my ears at an appropriate level. It is totally cool.
I can hear so much more! You really don't have any idea how dull and sort of monochrome the sound world is until you get this kind of help.
On top of this I worked a full schedule, making up all the time I took off and taught four classes over the two weeks instead of my usual six. There were a couple of holidays in there.
Saint Joe spent almost six hours of his week, this last week, training for his new job and cross training for his current job. I covered for him during this time, two of the days being the busiest of the last year. I know this because I am required to keep metrics on our performance.
I address the work as it comes in. The new plan is to have someone else address it late in the afternoon once a day.
During all this I heard from the church that I needed additional approval for the room I am planning on using starting next Monday and an approval authority I have had for years mysteriously disappeared.
This brought out the absolute worst in me! I was a paranoid angry tired mess. Things continue to be frosty between Saint Joe and me and yesterday I was in the office off schedule to scan and print something (I had been kicked out the day before so training could occur) and I heard my boss joking with the young man that Saint Joe is replacing in a relaxed happy way. Mr. On the Spectrum, who never ever speaks to me, or looks at me and rarely responds to my emails.
I did finally reach out to him about the approval authority being pulled and he did respond to that and say he had no idea what was going on and gave me permission to reach out to additional folks who might have some knowledge in that arena.
It turns out it was a mistake! Someone yanked the authority in error while tinkering with someone else's. Thanks guys.
I never did hear back from the Union about counseling. This coming week I will try another tactic. Bleck.
I received a later email from the person coordinating my room availability at the church not to worry about the additional approvals. I sure hope she knows what she is talking about. My patience is wearing a bit thin with the church…
But in the meantime I get to go spend the morning (if I can manage to get my hearing aids in) with Frida and Mrs. Sherlock!
Oh and I knew the cats were clever and resourceful but apparently they swiped some cash from my stash and bribed the lovely Vet Tech to tell me that their weight is down just a bit and could I feed them a bit more???
Because you know…they are sooo hungry. Not. :)
---
Last updated January 05, 2019
---