Jan. 1, 2019, 9:59 a.m.
|
Public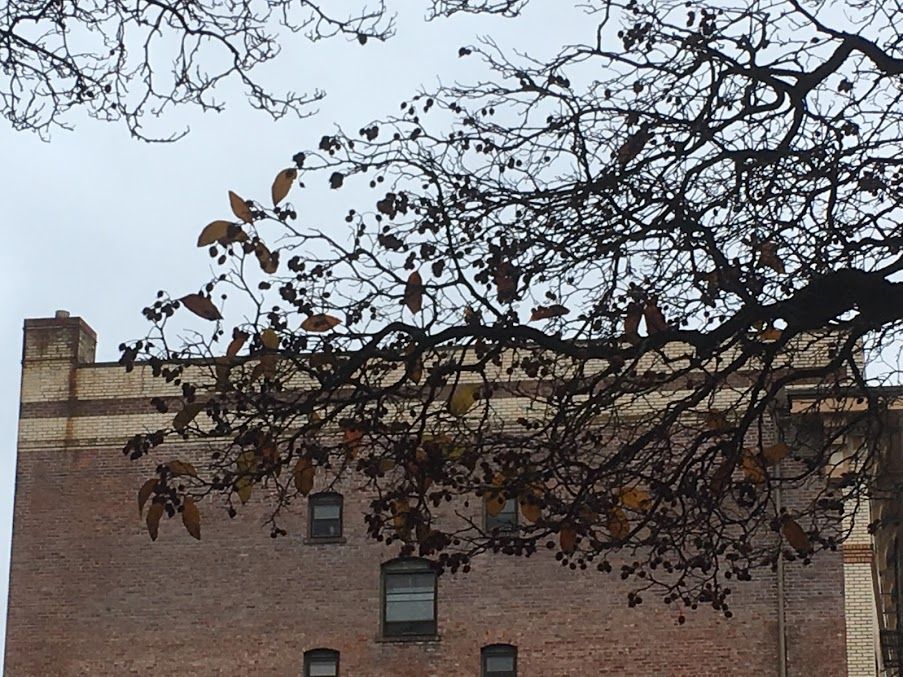 Happy New Year! This is a shot of one of four heritage Hawthorns (Lavalle hawthorn Crataegus x lavallei) in front of my church. It is not a native tree but very pretty, with white flowers in the spring. I was waiting for Mrs. Sherlock and thought the old bricks of the nearby building and the sky and the (almost) bare branches were evocative of that cold hard winter vibe with spring thrumming underneath.
Frida is hanging in there. Everyday her prognosis is better but she will never quite be her wild energetic self again. A bit more subdued in general. She spent 2 ½ days in canine ICU with Mrs. Sherlock whiling away random hours with her on the floor of her enclosure. She is home now in her favorite chair getting fluids and her meds. She went back for blood work yesterday and the good news is that she is not infectious.
The cost so far of all this is just under $6,000.00 Wow. The Sherlock's (and me) are ever so grateful they have the resources to deal with this. I am hoping to see her in the next few days. I sent a toy home with her Mom on Saturday when we met for coffee and hot chocolate.
It is dry and just freezing. The sunrise is beautiful because we have a stagnant air alert here and the light just loves to glom onto that particulate matter.
I just saw the first person of the year living rough hobble by as I was admiring said sunrise out my east facing kitchen window. Sigh.
We had our last yoga class in the studio last night. The young men waited for me to finish before they went in and took the curtains down and moved out the freestanding furniture. I taught 150 classes in 2018.
My family, particularly my siblings, were into folk music big time when I was growing up and my first memory ever involves a Woody Guthrie song. We were huge Pete Seeger fans. And yesterday when I clocked into work, unbidden, this fragment of song floated into my consciousness…"You can't scare me I am stickin' to the Union…" I am a member of a union and I think I am going to file a grievance about what is happening there. In the meantime communications with Saint Joe are going through a transition and things are edged a bit with frost. It is sad.
I did file an intake form yesterday about setting up an appointment to talk to the union funded job counselor about what my options are. There is only one and she is very busy.
"There once was a Union Maid, she never was afraid"… I find singing it boosts my spirits a bit. It is just a job, it doesn't define me. And my boss, who barely talks to me sent me an IM late yesterday afternoon asking for a cell number for our IT person and I was able to provide it. Maybe he will get the idea that I might not be so expendable after all.
My Tarot Card for 2019 is The Seven of Rods, and it is a card of strength and courage and ultimate victory after effortful labor. I'll take it!
All the best for a restful easy holiday full of the things and people and pets you love.
---
Last updated January 01, 2019
---