Dec. 28, 2018, 9:37 p.m.
|
Public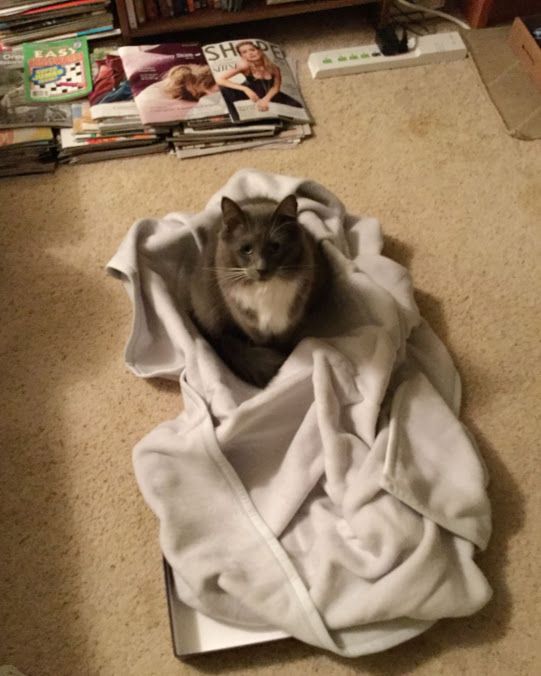 Carlo on Christmas morning. The gray throw was supposed to be a gift for me. We know how that worked out.
There were fresh organic oranges in my Imperfect box on Monday so I had fresh squeezed orange juice to start off the day and it didn't rain, which was a nice interlude.
I shared holiday greetings with Kes and Most Honorable via Facetime at a reasonable hour (a little more about my work situation than was ideal I am sad to say) and we talked about our plans.
Then I puttered contentedly until it was time to go over to the Sherlock's place. I walked (listening to the new Tana French book). It takes about an hour to get over there.
I met their friend, we'll call him Mr. German (he speaks German), who is about my age and grew up in Los Angeles. He gets along well with Mr. Sherlock, who can be a bit irascible at times and we had a lovely holiday lunch.
At one point the guys were talking about German and Old English, I had mentioned Joyce's Ulysses in another context earlier and Mr. German was telling Mr. Sherlock about this great phrase in the book that means "remorse of conscious" Agenbite of Inwit.
Agenbite is the name my ex-husband chose for our bookstore when we were in our 20's I was amazed to hear it.
Then Mrs. Sherlock brought out a most remarkable trifle for dessert with bananas and kiwi and blueberries. It was wicked.
The one thing that was putting a damper on our time together was that Frida, my favorite girl crush standard poodle wasn't feeling well. Mrs. Sherlock had tried taking her to the emergency vet earlier but the wait went on too long and she didn't seem to be getting any worse. Frida spent the whole meal crashed out at my feet and afterwards I spent a long time schmoozing with her on the floor.
We watched Pan's Labyrinth not in 3-D, which I am actually glad of because there were a few scenes I had to look away from. A very good, haunting movie but not in the least bit festive. Frida sprawled out at my feet and barely moved.
They both drove me home (Frida was able to eat a treat in the backseat) soon after the movie because I needed to work Wednesday.
Mrs. Sherlock took her to her vet and then on to the emergency vet Wednesday morning. She has a bacterial infection and had kidney failure. She spent Wednesday night and last night in canine ICU. She is home now but they still don't know if she is going to make it. She is only 5 years old. I will go sit with her tomorrow, if that is an option, but for now we wait and think strong healing thoughts and hope for a positive turn.
I don't know what the timing is for the disintegration of my job as I have known it, a few weeks before we know anything for sure. My very odd boss wants to cut things out incrementally. It is for all intents and purposes a demotion. And within a few months Saint Joe will outclass me and make more money. I am trying to find some equanimity about all this but it is not easy.
I will though. :) It is only a job.
Yesterday I had my ears checked by an Ear, Nose and Throat specialist (I am getting my hearing aids next Friday!) and she wants me to have an MRI to rule out nerve damage. Bleh. Another test, another contrast IV. I'll be glad when that is over in a few weeks. I still get my hearing aids so that is good.
My last class in the studio will be Monday evening. I had to ask them to leave the blankets until after, as they will be taking the space apart on the weekend.
I have a room booked at the church to start teaching there on the 7th. The arrangements are all still being finalized, and it is not ideal, but it is a way to keep my class together until I can find a better space for us.
2019 is not going to be dull. That is for darn sure.
I am praying with all my heart that Frida will make it through to share it with us.
---
Last updated December 29, 2018
---