May 31, 2021, 9:37 a.m.
|
Public
I am taking part in #MyEDSChallenge and #MyHSDChallenge with the Ehlers Danlos Society. Since May is EDS awareness month, every day I will be sharing something about myself and my EDS journey to drive further awareness and community.
Day 31- Community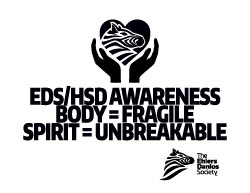 As we wrap up EDS awareness month, I just want to say thank you to everyone who took the time to read my instagram and blog posts. I also want to thank friends and family who support me and believe me despite the medical industry not really doing much for me. Thank you for standing by my side for nearly a decade of my medical mystery. Day 31, the last journal prompt is about community. I have met some amazing new folks on instagram this month and i wouldnt have gotten that opportunity had it not been for this challenge. I look forward to following everyone's journeys and supporting them.
This video is super important and is dedicated to all the zebras who have been suffering in silence for years.
---
Last updated May 31, 2021
---