Revised: 10/03/2018 1:40 a.m.
---
Oct. 2, 2018, 2:05 a.m.
|
Public
As I post this, Hayabusa 2 is already on its slow approach from 20 km out, this time to deploy a slightly larger rover with more science capabilities.
Wikipedia says: "The Mobile Asteroid Surface Scout (MASCOT) was developed by the German Aerospace Center in cooperation with the French space agency CNES.[28] It measures 29.5 cm × 27.5 cm × 19.5 cm and has a mass of 9.6 kg (21 lb).[29] MASCOT carries an infrared spectrometer, a magnetometer, a radiometer and a camera that will image the small-scale structure, distribution and texture of the regolith,[30] and is capable of tumbling to reposition itself for further measurements.[22][31] It will investigate the surface structure and mineralogical composition, the thermal behaviour and the magnetic properties of the asteroid.[32] It has a non-rechargeable battery that will allow for operations for no more than 16 hours."
I haven't yet found an estimated time for the minimum altitude/deployment.
Periodic live (i.e., immediately posted when received) pictures of Ryugu during the approach can be seen here.
---
EDIT: It's deployed. This (if the link holds; I still don't have a hosting solution) is a shot that MASCOT took as it was slowly falling… capturing its own boxy shadow.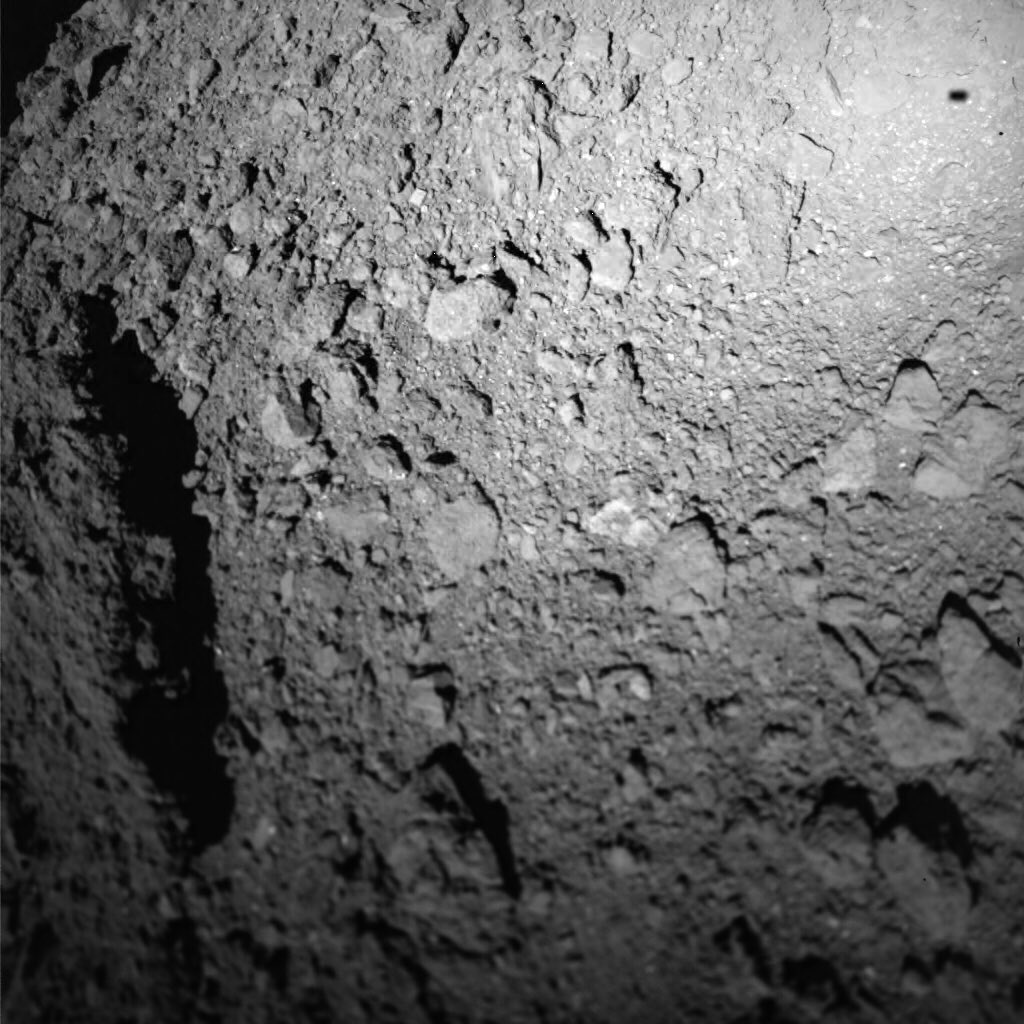 I enjoyed the JAXA live briefing
. Lots of information, and this time the interpreting and everything was working better. (They showed a colorfully labeled flat-map representation of Ryugu's surface… and I despaired of reading it in any meaningful way. Why not just have and rotate a rough 3-D model?) :-)
Now that's over, and I can't find the German (DLR) streaming presentation. In any case, here's a fun video trailer for MASCOT.
And, now that our mood's up, here's a video (in German; captioned in English) that gives some details.
---
Last updated October 03, 2018
---