Jan. 2, 2021, 7:16 a.m.
|
Public
You know the ol' straw and the camel? Yes, so many things are stressing me but this one finished it off.
On Dec 3rd I made an order for a fun Christmas tree decoration, you know, one that says 2020 but replaces the zeros with relatable items. And, as I've been trying to support local crafts people, i ordered from a local guy. It was a plain wood cutout.
As many of you know, I've also been selling locally, I've been making masks and because of this I know that the post has been taking longer than usual. I think one week was the longest it took a mask order to arrive (and that was only 6 miles away). So I gave this Christmas ornament delivery a chance and waited until 13 days after I made the order before contacting the seller. His response was short and defensive but did say he would send another. The reposted one arrived a few days later and was, quite frankly, shit. It was very badly cut out with lots of rough, splintery bits and it was tough to make out what was supposed to be what. It was badly packaged and had no string to hang it with. But thems the breaks. I shrugged, memorised his name so as to not order again and got out my acrylics to paint it and make it recognisable.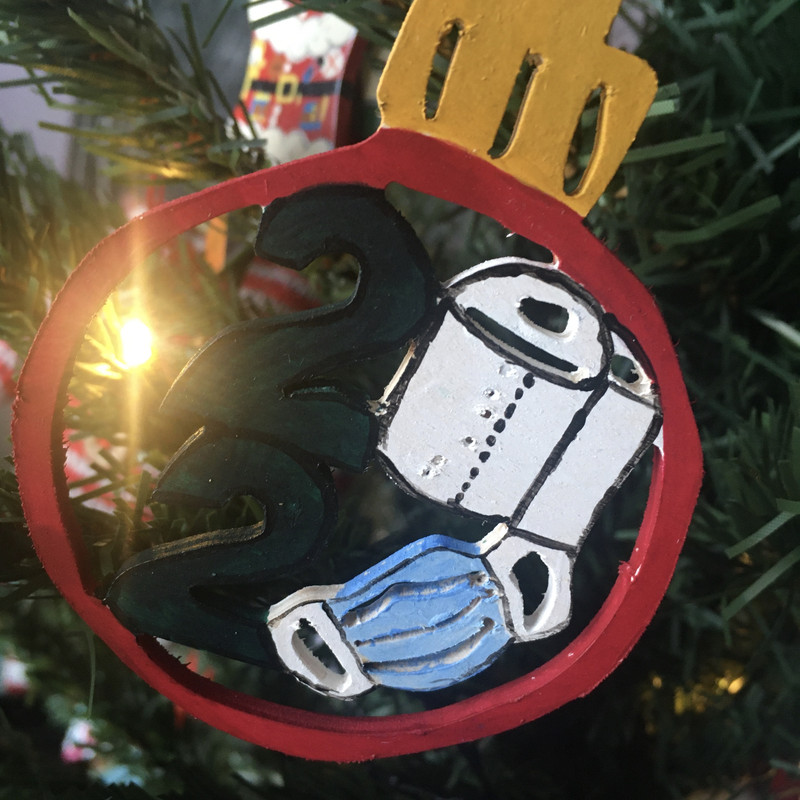 Today, a month after ordering, the original decoration arrived. How do I know it was the original? It was nicely cut out, nicely packaged and had twine on to hang it up with. Why was it a month late..? Because he hasn't paid full fucking postage!! I had to pay £1.50 for the privilege of having it delivered!! Anyway, this is the original, new one which I painted when it arrived.
Every single one of my masks was weighed before it was posted to ensure correct postage. Every package had a thank you card and receipt. When I had people question delivery when it hadn't arrived I asked them to wait until 7 days and if it hadn't arrived I would get another out to them. Had that happened, I would have put exactly the same effort into the replacement ones and not once did I feel resentful about the question.
There's no point in selling your creations unless you can do it with an open attitude. Nearly everyone who ordered came back for more!!
Rant done.
---