Oct. 11, 2020, 10:10 a.m.
|
Public
Today was a ten miler that ended up being 10.66 miles because i was determined to make it to the next car park. The start of the run had to have a backwards bit as last week I turned around in the middle of nowhere. I took a photo of the place i had reached (which included bright orange gas pipeline warning signs) so that I would know where to stop. I didn't take any photos of that section today as I spent most of it looking for an appropriately sized weeing tree 😂 and after a battle with holly and up-stuck branches I found a suitable spot to drop em 😊
So, once I was back at the car (after 2.5 miles) I had a swig of water that was waiting in the car for me for after the run and then set off in the other direction.
I had parked on a narrow country lane next to a church in the village of Nuffield, at that time on a Sunday morning there was no one around, it was deliciously peaceful. The Ridgeway crossed over this road, went diagonal across a field and then slammed into a golf course. To be fair, the path is several thousand years old while the golf course has only been around for 119 years so I wasn't too worried about running over the greens. Literally, the Ridgeway cuts right across the middle!!
The lump in the middle is a bunker.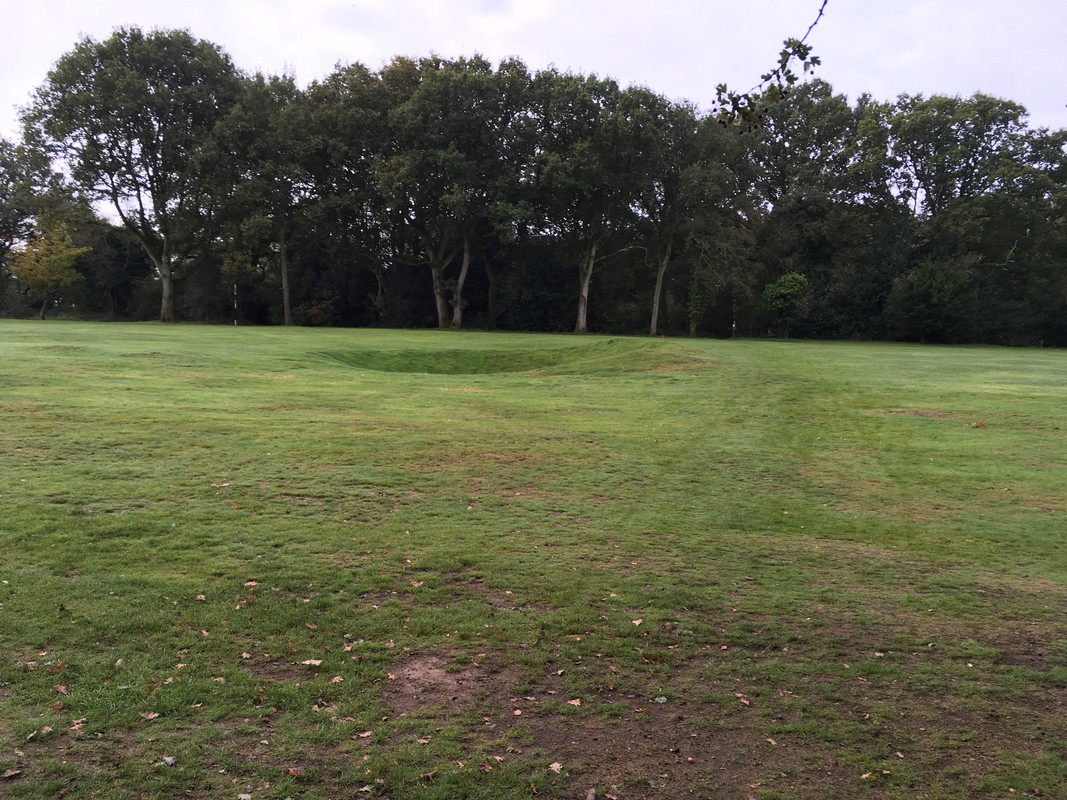 After several sections of golf course, there was a road to cross which led into the trees, up a bit of a muddy hill, and opened out into a field. Once across that field there were more trees. The field beyond those trees was vast, sweeping from left to right with a defined cut down the middle to allow walkers. A guy was walking along it towards me so I stepped out of the way to allow for social distancing.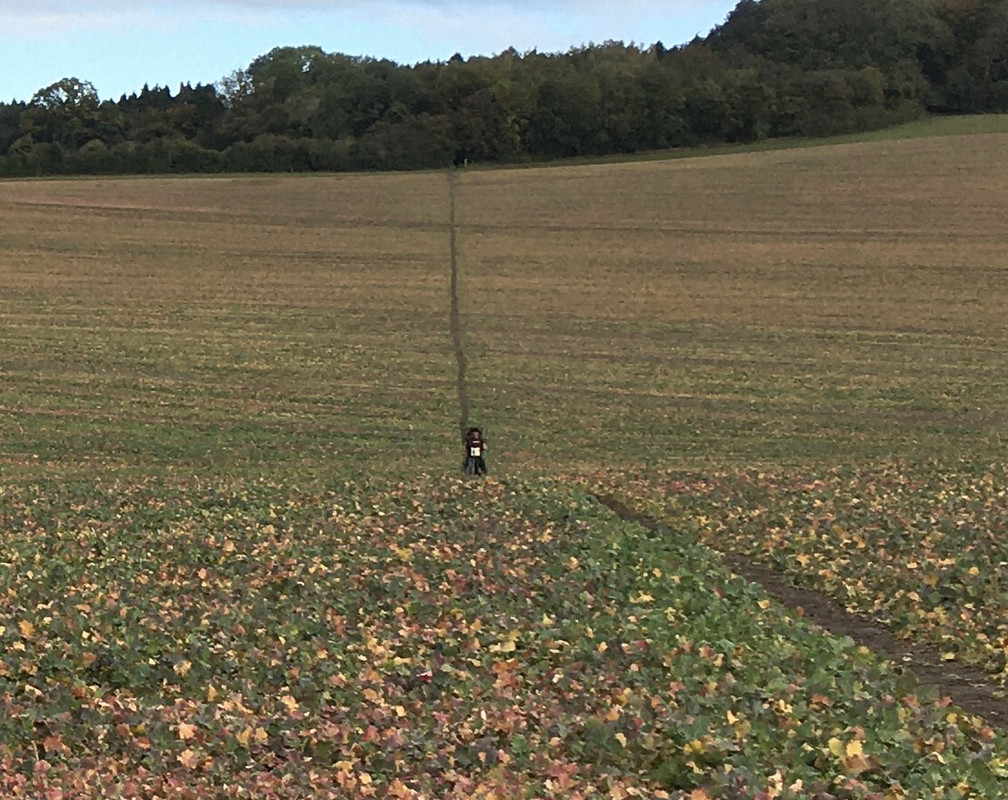 You can see him as a dot in the middle. He had a little black dog (I have no idea about makes and models of dogs) and a huge, camo pack on his back. He was attempting to walk the entire length of the Ridgeway (87 miles or 144 km) in three to four days, finishing in Avebury tomorrow night. He had been walking for over two hours by the time I met him and was ready for a break.
This is the same field from the other side.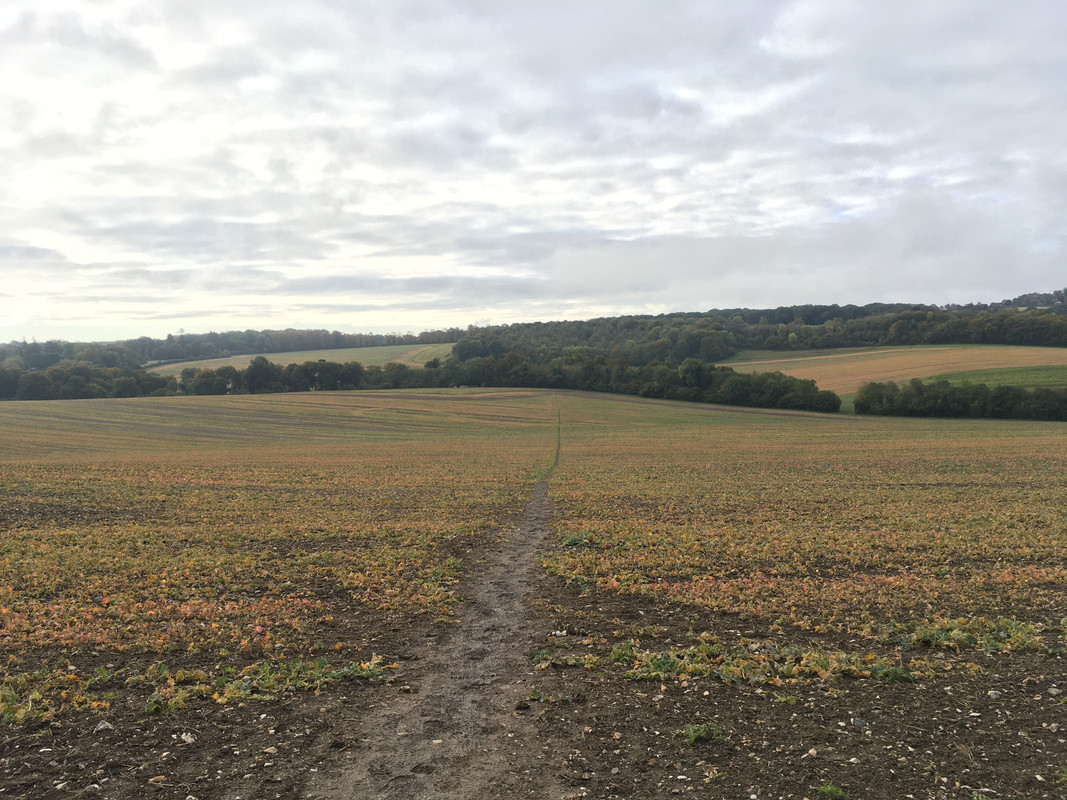 The next set of trees opened up into someone's beautiful driveway (as footpaths in the UK are wont to do) which was covered in lovely, white stone. Not a great combo with runners and hikers in their mud clumped shoes. Anyway, their drive led to a road over which was more wooded areas, fields and a farm. Once through the farm I met a group of people all running together with their dogs on running leads. These are belts which go around your waist with a clip at the front to stick the dog lead and the dog runs along ahead of the runner. There were about 6 or 7 of them. I stayed at the side to let them past, Lots of greetings and thanks were flung between us until the coast was clear and I was off again, just for a short distance before meeting these guys 🙂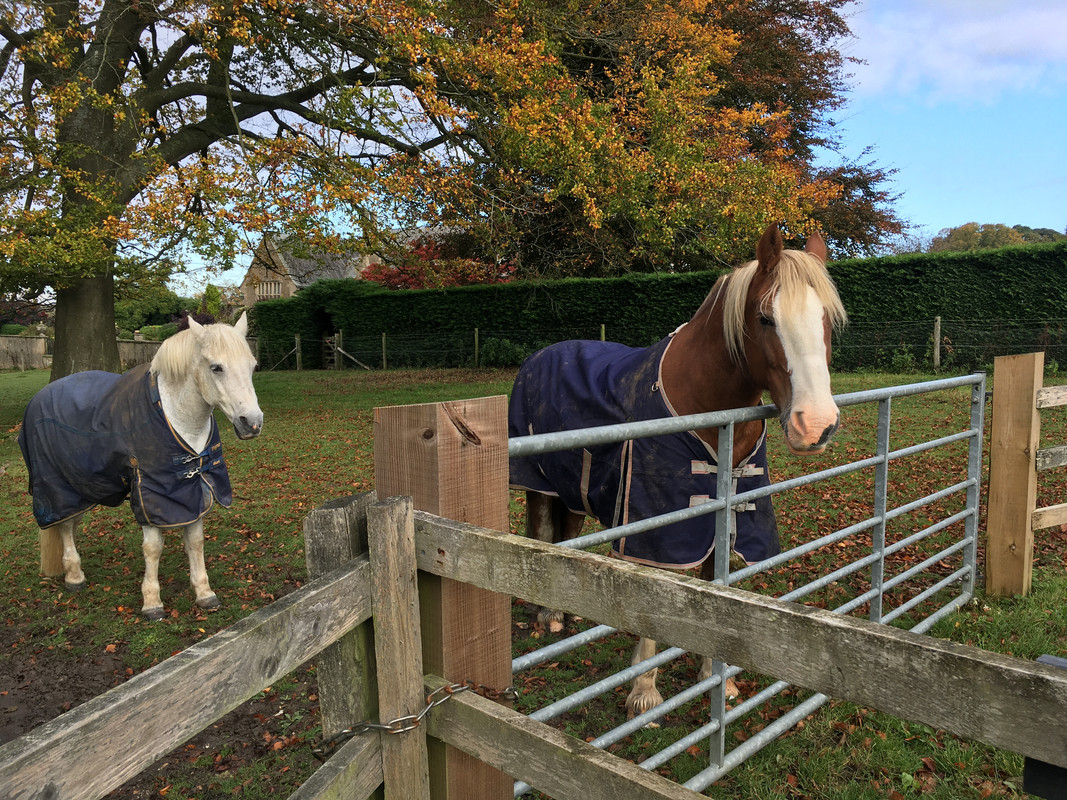 They were in a field just outside a VERY large house, the type of house that you could picture the National Trust hoping to get their hands on. On doing a little research, it was Ewelme Park Farm although there is no indication that its open to the public for any reason. I've just had a little fun trying to say Ewelme in lots of different ways… I swear my family must think I'm nuts!
Things quickly got really fucking evil. Not in a Bates Motel or Cabin in the Woods kind of way but in a "will these hills ever stop?!" Kind of way. If they weren't ascending almost vertically to the sky they were plummeting to the centre of the earth. Just a constant up, down as steep as it's possible without falling off a cliff edge!
I had reached the edge of the Chiltons, a gentle hilly area in the south of England. Not so fucking gentle when you're running!!
I did take photos to illustrate it but photos don't have the third dimension which really illustrates the gradient.
This is looking down, the green through the trees at the bottom is the field I had just walked up from (yeah, there wasn't any running on that gradient!).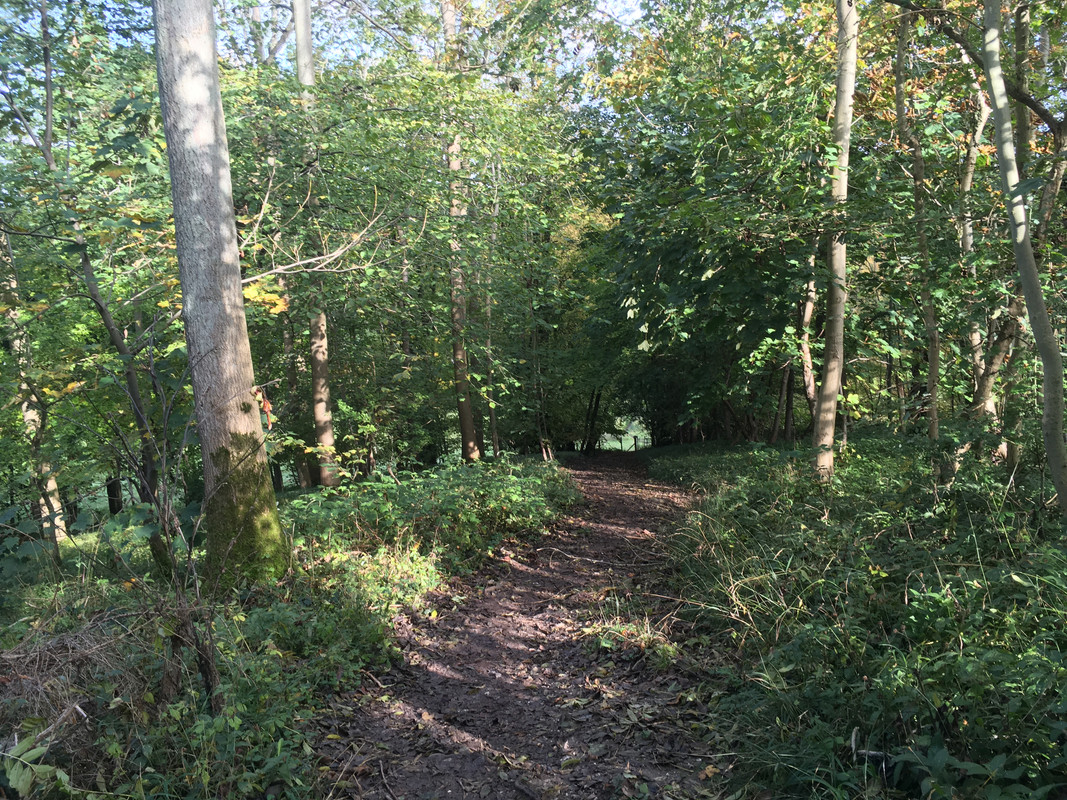 And this one is looking upwards from the field. This hill had me question, even if for a millisecond, whether I would make it back to the car or not!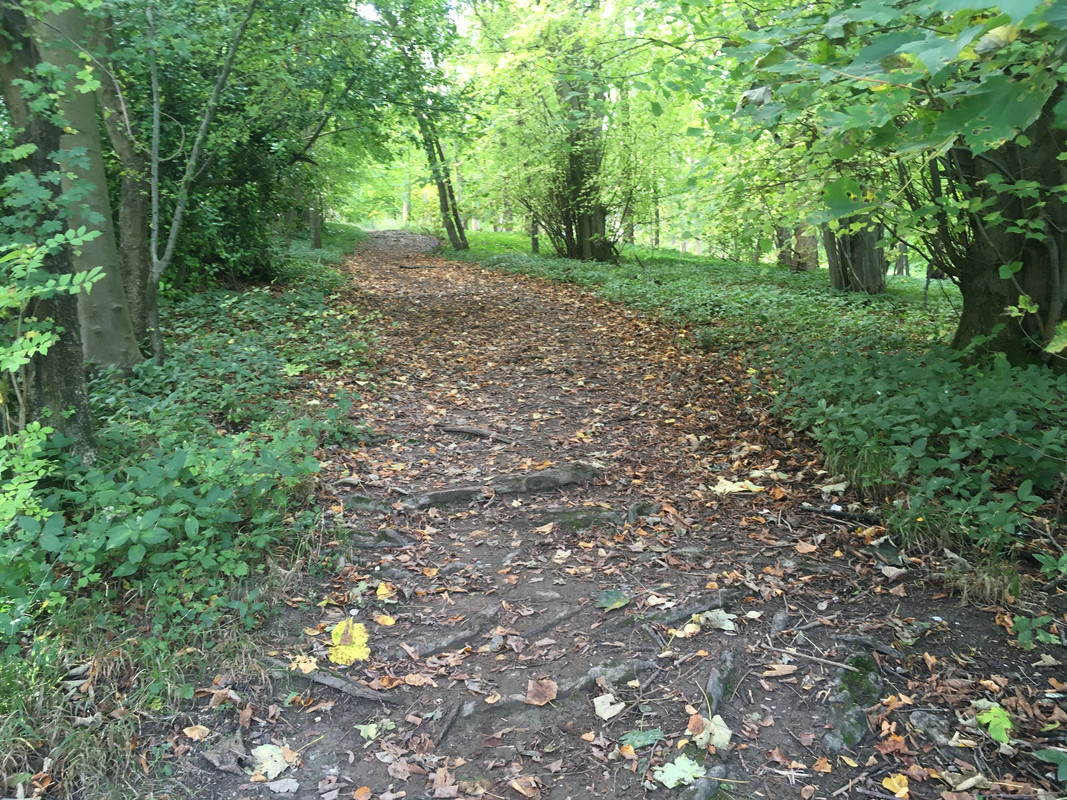 The scenery was divine at my turn around point,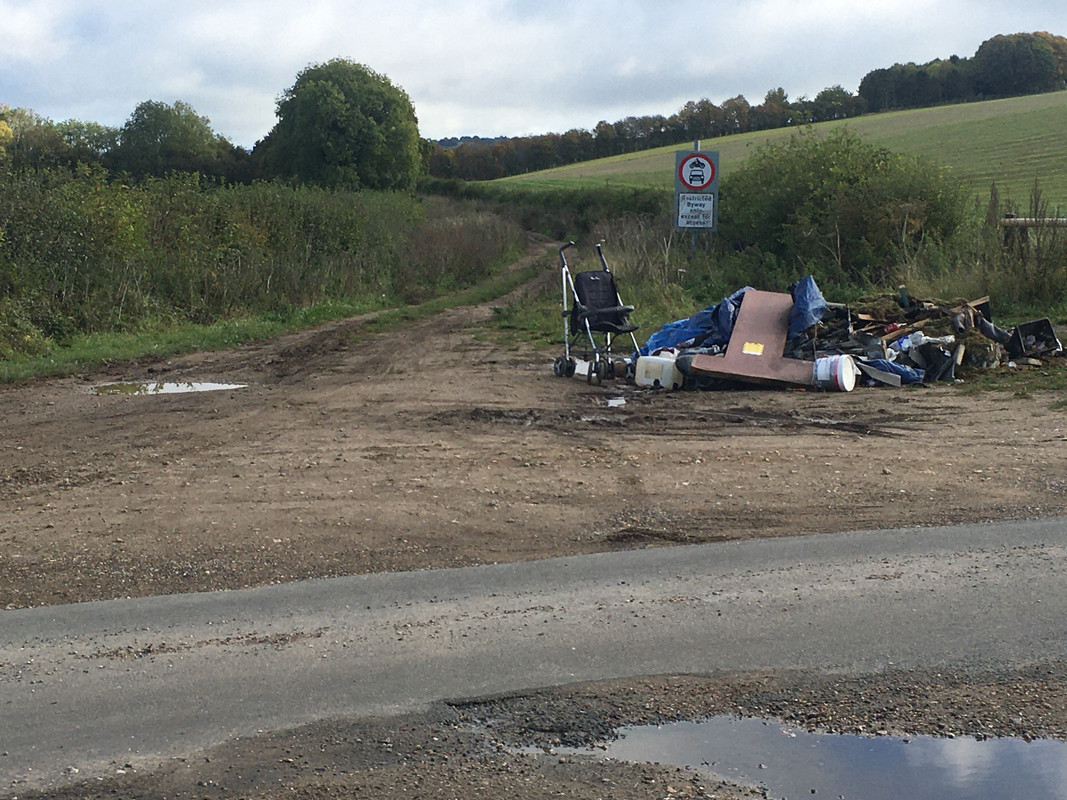 I basked in the cleanliness while enjoying a drink of water and a choc orange nakd bar before turning back… to face yet more hills. The reverse of all those 'lovely' downhills i had just done. At least all the previously ups would be easier 😊
No matter how hard it was, the scenery was utterly stunning (the path turned left shortly after this and I had to get up there!)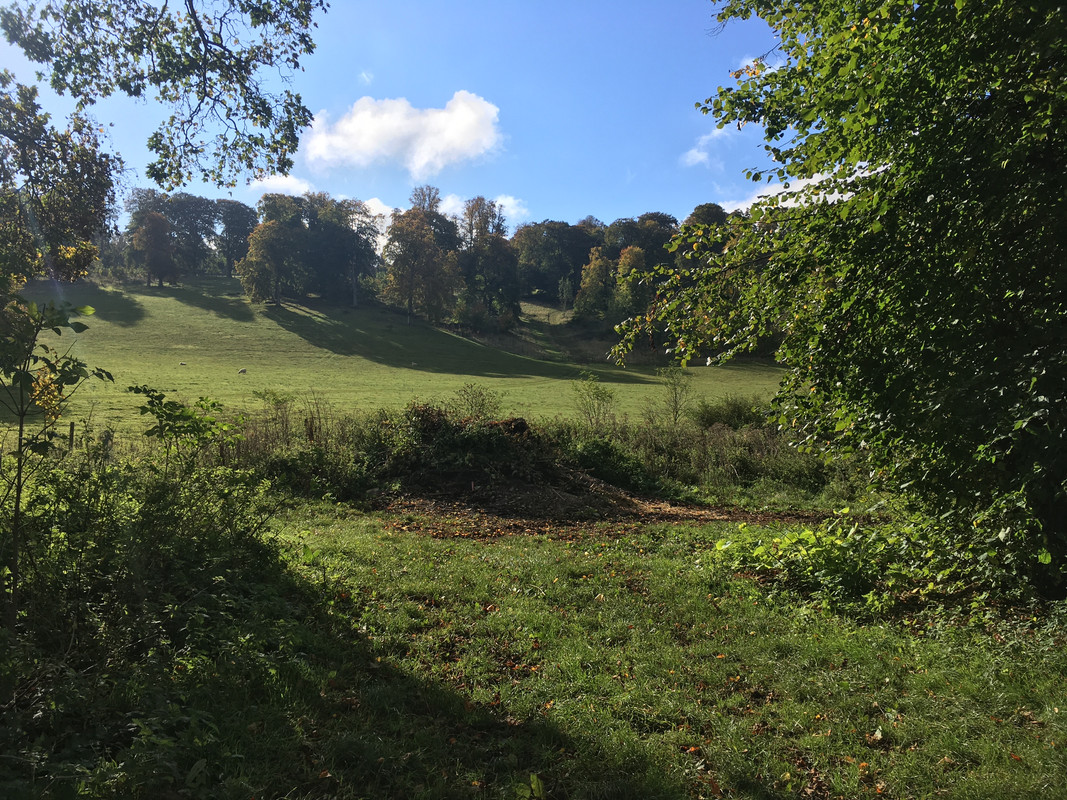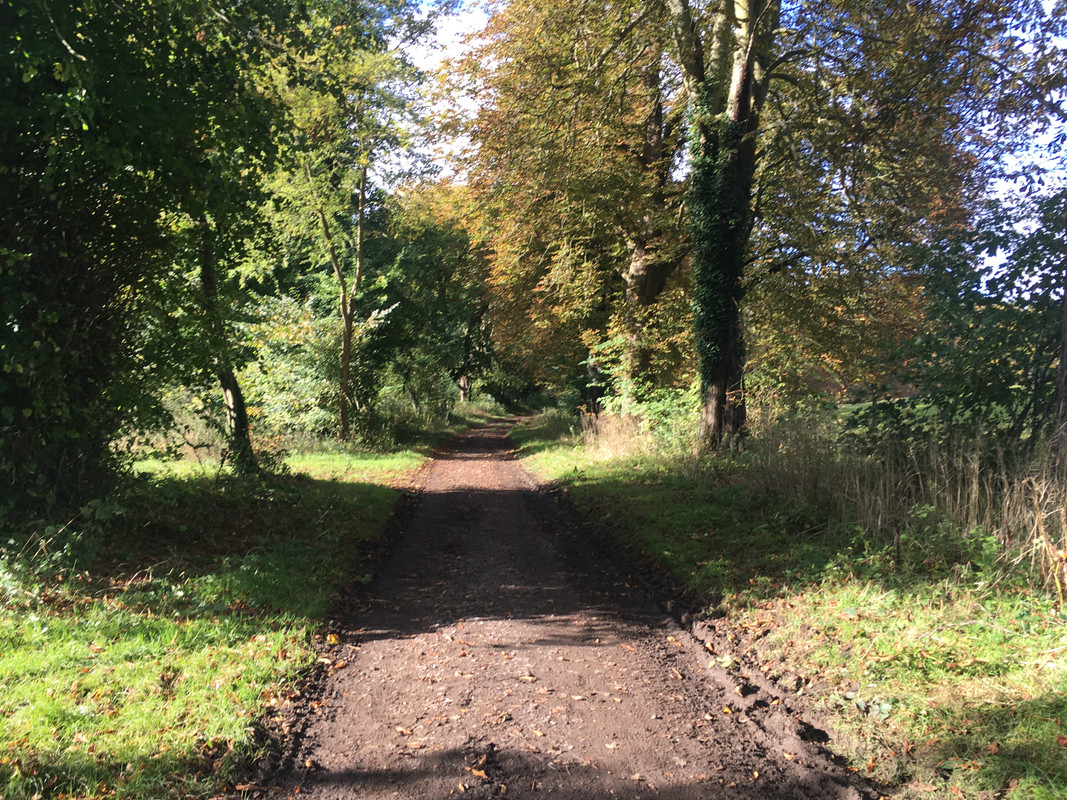 At the top of a particularly steep one I met a cyclist, leaning on a fence and enjoying the view. She was loving the autumn sun and the hills. I can't wait to love hills again!
Then I carried on, going back over previously run ground to the car. There were more people on the golf course now so I felt a little nervous of low flying balls 😆
This is how far I've come along the Ridgeway since Overton Hill, outside of Avebury.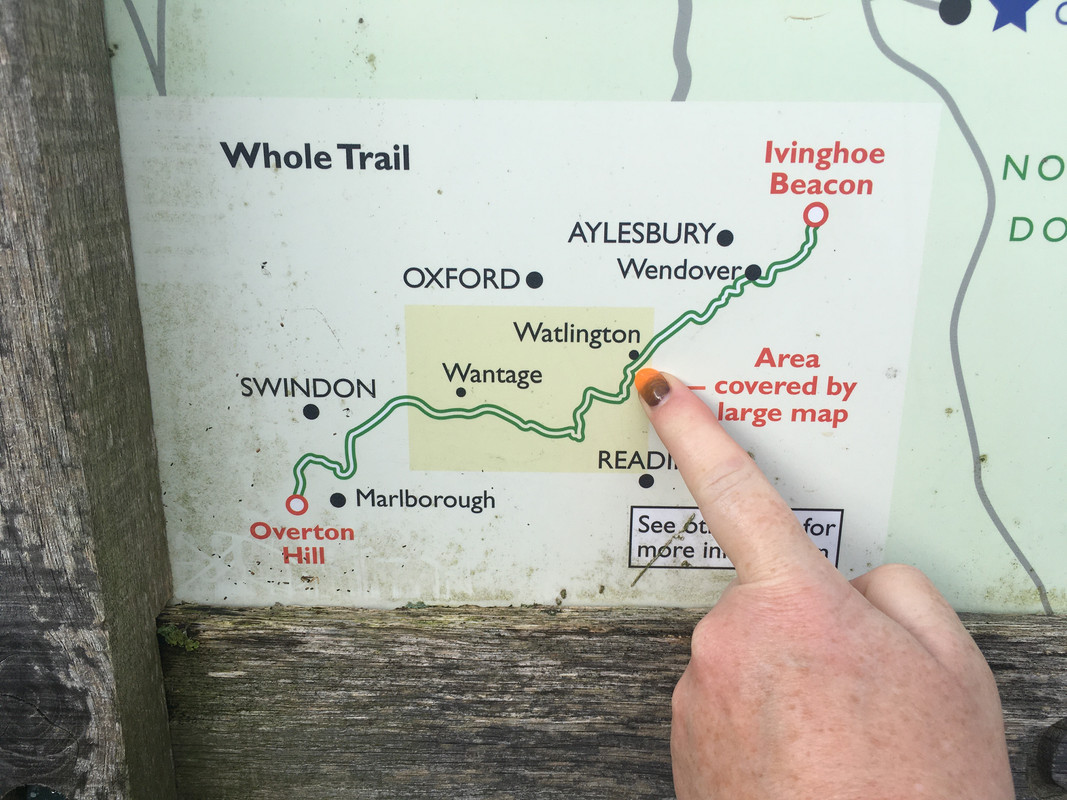 And this is the run's profile. As I said, truly evil!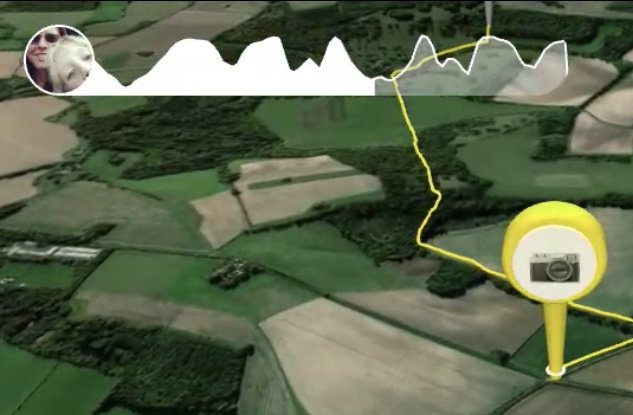 ---
Last updated October 11, 2020
---