Stimulus bill, Easter, Me in Pandemic Times
March 25, 2020, 1:32 p.m.
|
Public
Since I've made this journal public, do I need to introduce myself? I'm a mid-30's married woman living in Kentucky with my husband, daughter, cats, and a dog. I'm a stay-at-home mom who loves video games and coffee. I am an only child who grew up sheltered and blindly conservative. I lived for praise and thus never grew my own personality except to please others. Having married my husband, lived a little more, and started my own family, I'm now definitely liberal. I wish that didn't matter for this journal. But times are weird, y'all. Issues are clearly left or right. I'm the type of person who can see both sides (but usually chooses left), if presented with actual facts.
So let's see… The last thing I wrote in my paper journal was how Indy center went to ATC Zero, meaning no flights whatsoever. What's happened since then?
Stimulus: I haven't read up on the full details, but apparently the Senate will hopefully finally pass a stimulus bill. They've been squabbling over it for probably a literal week at this point. Republicans wanted a gigantic (like $500 billion) slush fund for corporations of their choosing, with no protections for workers who have lost their jobs. Democrats were fighting for the workers rights, but then somehow they were also trying to push a bunch of unrelated green shit into the bill. I had to take a break from the news because it was stressing me out. I'm really disappointed in the Democrats for trying to push through a totally separate agenda. Now is not the time. So, the average family is set to get something like $`1200 plus $500 per kid, if your total income is <$75k. The last article I read was that it was going to be based on 2018 taxes. We didn't have kids AND I was working in 2018. So, we're going to get a little screwed. Upside? My husband has to work. We're still getting paid. I shouldn't complain.
Kentucky: Every day KY's governor (Andy Beshear-D) comes on at 5pm to give us all an update. He is truly an incredible governor. He is calm, reassuring, and encouraging. An absolutely wonderful meme group has started in his honor. It's a light in the midst of this darkness. I'm proud to live here. Mike Dewine-R in OH is doing a great job as well. His loving touch is his doctor, Amy Acton. I'm from Ohio, so it's awesome to see both sides of the political spectrum doing the right thing and getting shit done. Yesterday came the announcement that some kids in KY had a coronavirus party (just had to add coronavirus to dictionary, haha) and someone tested positive. God, young people can be such idiots. Though sometimes, just sometimes, I have to admit that I'd like to get the virus just so I can get on with life (or die, I guess) and stop worrying about my family's every move. Anyone else feel me? A little grim, I know. Also yesterday came the announcement that non life sustaining businesses need to close. I'm not sure how this is different from his 3/22/20 announcement that "all in-person retail businesses that are not life sustaining" must close. Businesses came remain open if they provide delivery, curbside pickup, or carry out if social distancing is enforced. What's different? Idk.
Trump: I didn't watch the White House press briefing yesterday. I always make time for Beshear's because it doesn't raise my blood pressure. Plus, the White House briefings seem to be at all different times of day. I have a kid to take care of. Anyway, I guess yesterday (maybe the day before) Trump stated that he would like America to be back up and running by Easter. Almost all experts and doctors are warning that this measure would be downright stupid. Also, an older gentleman went on Fox News to say that he'd be willing to give up his life to ensure that America's economy gets back on track for his grandchildren. What the actual fuck. Who paid that guy off? It will definitely be interesting to see (probably literally in the next few days) how many politicians and at-risk people suddenly change their tone. I don't volunteer my parents as tribute. Also for fun, Trump tweeted about two drugs as if they are the gold standard cure for COVID-19. One of the drug is a lupus drug. Actual lupus patients aren't getting their refills because doctors and rich people are hoarding them. Also, the drugs haven't been tested thoroughly on COVID patients. So, it's a crapshoot. Even better, a form of one of the drugs can be found in a fish tank additive. A couple took it to prevent the virus and the husband died. Cool, cool, cool.
I think it might also be fun to insert Twitter's trending topics and maybe a screenshot of my Google news page?
Twitter:
stimulusbill, EasterMassacre, Prince Charles (he's positive), Bindi Irwin (she got married last night before Australia shut down)
Google News: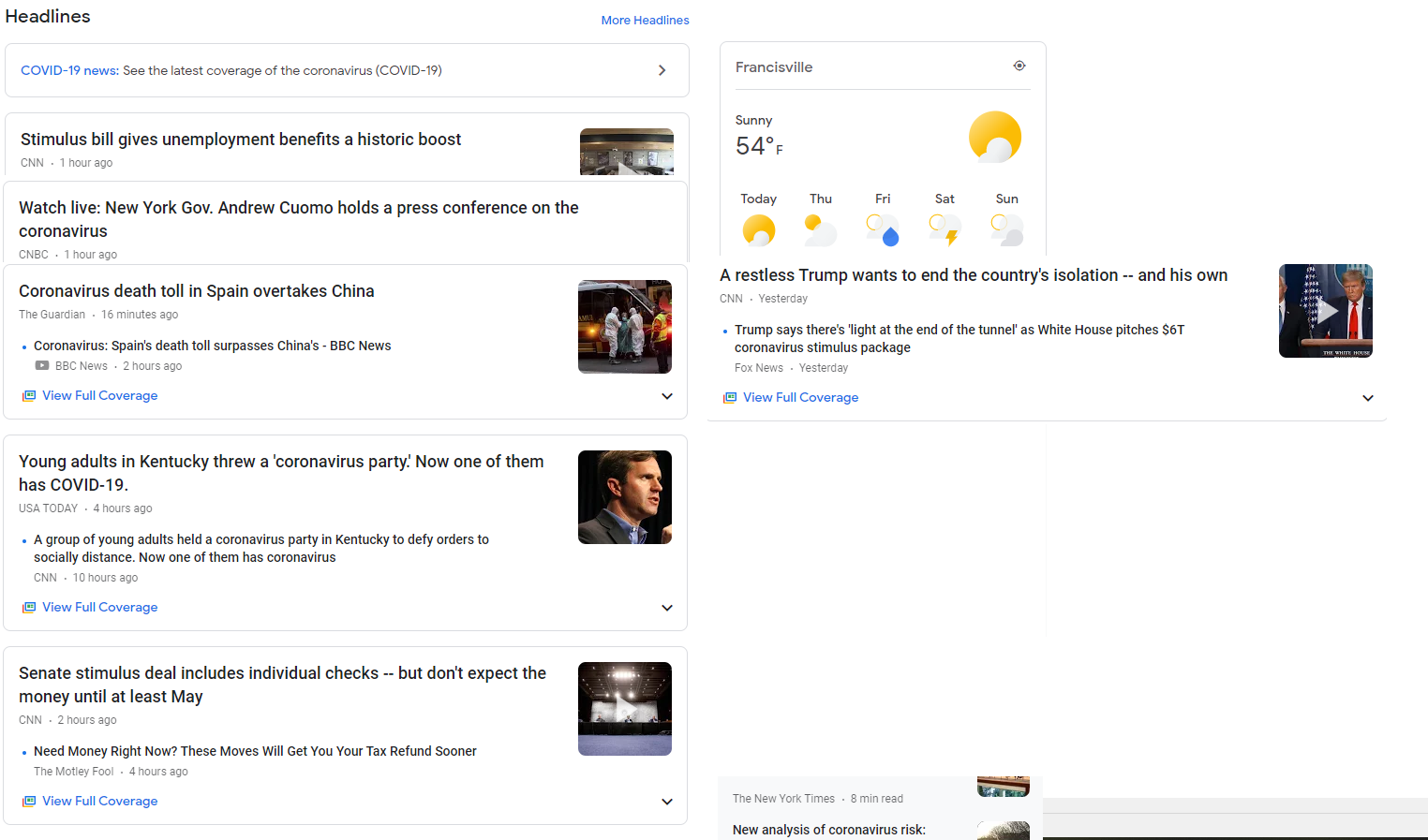 ---
Last updated April 10, 2020
---