Sept. 11, 2023, 6:38 p.m.
|
Public
I can be a cantankerous no bullshit person at times but that does not mean I do not have a good sense of humor or a personality of great kindness.
This morning I went to the blood place that shares office space with my primary care doctor. I had intended to just be quiet and not my often happy-go-lucky joking self. I HAVE felt quiet inside lately. That seems to be a healthy thing.
I went in, registered and then stood in the waiting room. A woman at the doctor's check-in desk asked me if I had an appointment. I smiled and told her no. I just like to go talk to people. Told her I was like a happy-go-lucky stray dog. That made 3 women laugh. I started joking around and shared some laughs with the women then sat down to wait. Sit and breathe. I heard the familiar voice of a male worker I had not seen in months. Asked how he was. Said he had been off for 13 weeks with nerve damage and could not walk. I summoned and showed genuine concern for him. He went back to work.
Sitting there, I noticed how sad some people looked. I made small talk with 3 and opened a door for a woman coming in. It all felt good. My turn came for a finger prick to test my blood. Again, very friendly. My blood reading was bad. I will fix it. More small talk. Compliments to people in what ways I could honestly give. Nice smile nice hair. You all have a great day and away I went. Off to pick up a prescription from the drugstore on the way home. Got there and noticed the very young woman at the counter, by her headscarf, was a Muslim. I asked her about her scarf/head covering. How she wraps it and did she have other colors? She got enthusiastic in answering me. Rare that someone was not a dick about how she dressed for her religious life. More little jokes and smiles. I asked about getting some shots and she looked delighted when she told me I could skip one shot and get the coming new Covid shot. She said I could get the flu shot today. Fill out a form and go sit by the blue wall. I did so. I told a woman that I must be in great health because of some boxes I did not have to check for various maladies.
I usually get anxious waiting like that. I calmed my mind. Focused on breathing and smiling at people passing. After 20 minutes a woman told me a pharmacist would see me soon. 5 more minutes and I was ushered into a small room. Made small talk about something and the pharmacist talked about an interesting subject and I think I shocked him by thanking him and remarking on what an intelligent man he is.
I got in my car and checked my phone to see if my SS payment was in my bank account. Not. Drove home, to a female bird very happy to see me home again. I waited and checked the bank account 15 minutes later. The money was there. Put the birds in the cage and left to go buy groceries.
I went to ALDI and was sure I was going to be quiet. Entered and my mood rose. Tried to remember all the stuff I forgot to put on my list. Saw a familiar faced woman. We shared smiles and she said, "I see you in here all the time" and I told her no, only when I need some food about once a week. She laughed. We exchanged names. We had seen each other at Krogers across the street, too. Mornings are when most of the old folks like me go out into the world. World is slower for us, less hurried. I joked a bit with the woman and then wished her a good day. Later, I saw her packing her groceries and walked past the registers to say it was good to see her and have a great day! SMILE both ways.
A friend in Thailand messaged me on FB messenger. It was close to her bedtime. I called her and we started a fun video chat. She shopped with me. Naming the things I was purchasing. When I got near a few other shoppers, I shared the screen with them and they liked to greet my friend. WE talked to the manager and more fun stuff. On the way out, let a worker cut in front of me to purchase stuff. Only a few items. Joked with him. Saw the manager and had a shouting conversation and laughs shared by other shoppers over hearing it. It is fun for people to overhear a conversation and join in laughing about it. As I packed my bags after paying, encountered a navy vet in a wheelchair. Pleasantries exchanged. He mentioned that he had been in charge of the Cadaver sniffing dogs at the World Trade Center. I made a joke by saying, "Yeah those dogs said, "You want us to do WHAT?"" And he laughed and said those dogs said, "You only love us if we find dead people!" His face went grey and he said it was the most horrible experience of his life, using those dogs to find so many dead. We had shared a joke and that was cool.
Drove across the street to Krogers for a few items. Told myself to take it easy. Be cool. Just go get your stuff. As it was I found my favorite ice cream and then met a worker who works frozen foods. Nice lady. I always greet her and assure her I am not there to stalk her. She has seen me with my brother once. Small talk then showed her a photo of my 2 birds sitting on my head. She got excited about that! Said she had 5 Cockatiels. We talked birds. I let her talk more. DID ask if talking to me would get her into trouble. Good fun encounter. No I am not after her. Not all is about sex. I always look for rings too ;-) She had one.
Checking out, I gathered up 4 other hand baskets with the one I was using and dropped them of onto a stack of baskets near the exit. It puzzles me that people use the baskets and leave them for others to take care of. Maybe that, "not my job!" attitude. Makes me feel good doing that.
I used to think of myself as an introvert. Now I am no longer so sure. I want to emotionally reach out to people and try to share a bit of positivity. Oh yeah. I almost forgot. Saw a sad-looking black woman standing in line at ALDI. Told her I liked her blue and red jacket. Made her smile for the briefest moment. I DID like those colors. I try not to ever bullshit someone with fake stuff. Be sincere. People know when someone is being a fraud. Ok many do.
I have had some kind of transformation in the past few years in which in the primal fibers of my being, I don't want to go negative anymore. Avoid the toxic. I will help someone if they want help. If they want to wallow in their poisonous emotions, ok. I used to post a lot of political bullshit on FB. I realized it is just tiresome darkness. Now I post beauty, humor or positive stuff. I don't want to be the downer or darkness to people or myself. I wish I could have learned all this in my youth. Now for whatever days I have left, I want to be THIS way and ADD a smile to the lives of others if I can.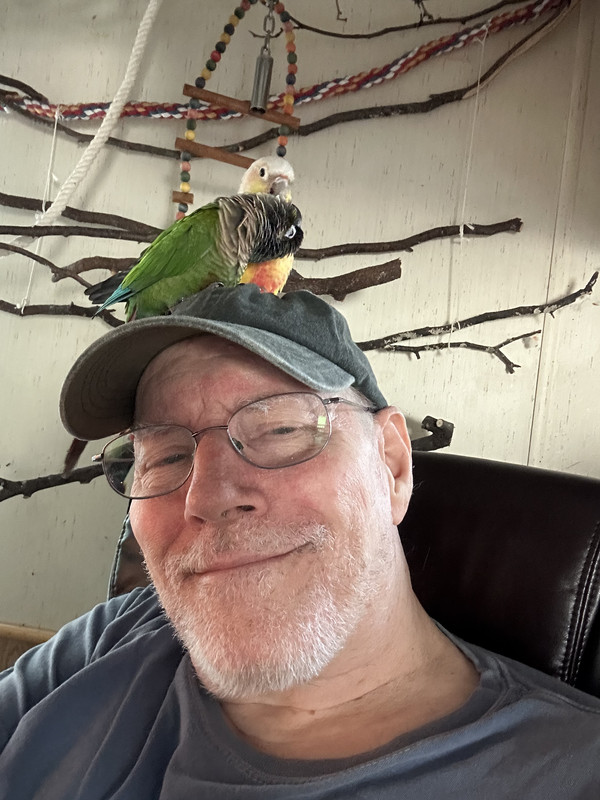 ---
Last updated September 11, 2023
---