Oct. 5, 2021, 7:20 a.m.
|
Public
This is Buddy and Max. Buddy is a male conure and Max is female. I got Buddy over 3 years ago on a birthday when I was looking for a good way to kill myself. I was driving and saw a pet shop near where I lived that I was surprised existed. Had not see it before. I wandered in in something of a daze and looked at the birds. I made an impulse buy and got Buddy.The light green/yellow bird. Fortunately for the name I gave him I found he is male. He was never friendly. I think he had a bad childhood. Maybe a bad previous owner. He is cantankerous and bites. Oh but he loves the food I give him! When I was a drinking man back then he would drink beer with me. Hilarious. Sit on the rim of a glass and drink. Flying was fine but landings rough when he was drinking.
I got Max the dark green bird as a companion for Buddy about 18 months ago. No idea if male or female. You can only tell by a blood test. No dick hanging out when they fly. Could be trouble! When I got Max, I feared SHE would starve to death. She just sat there in a cage by herself. I had got a huge cage for Buddy. 5 foot long! I took a day off from work, worried about Max. Sat with her and she finally decided to start eating and drinking. I remember Buddy watching, fixated on her. I feared that if I put them together Buddy would try to kill Max as an intruder. Territorial crap. After a few days they were pressed up against the bars of their separate cages. I finally took a chance and let Buddy out to climb around on Maxes cage then let him in there. At first they were all over each other and I thought they were trying to kill each other. Then I realized it was AFFECTION! I put Max in the BIG cage and they have been inseperable ever since. I let the birds out loose and yes I have plenty of paper to catch their shit. I have tree branches in a front window made into a long swing. Tree branches on top of their cage and elsewhere. After a few weeks here flying loose with Buddy, one day I heard a flutter of wings and felt a bird on me! It made me jump! Buddy would never go near me. Max had decided to try out that ambulatory human furniture. She surprised us both by landing on me. Testing me. Since then, I have become a favorite piece of furniture for Max. I found out that Max is MAXINE because she laid eggs last spring. Sorry but cannot allow babies here. I felt bad about throwing her eggs in the garbage but I cannot afford a house of many birds. Max and Buddy share meals with me. What is not toxic to them. Max often rides on me. I go to bed at night and tell myself over and over to be extra careful with the front door. NEVER allow the birds near it. If they left the house they would have no idea how to get back.
Here are my birds. Buddy can be a vicious asshole but he is also funny. The birds do not talk. That is ok. I expect them to learn my curse words someday by the process of proximity assimilation.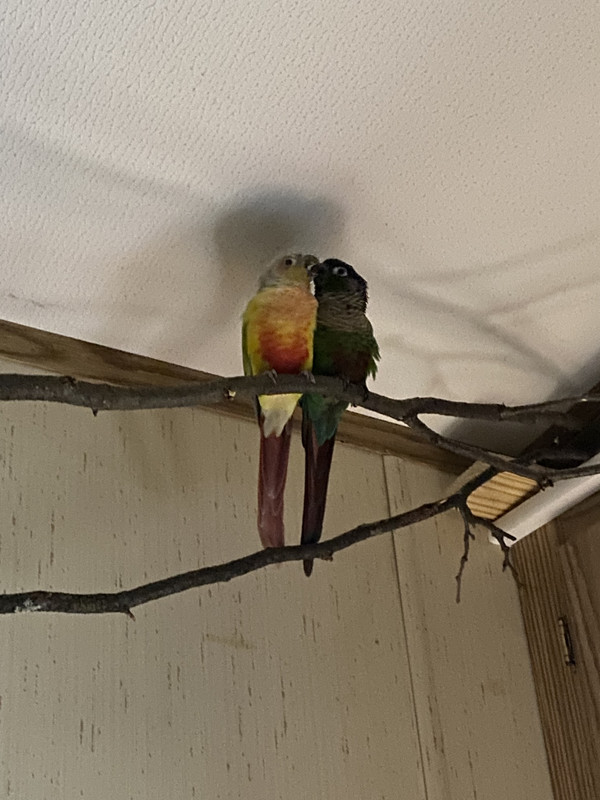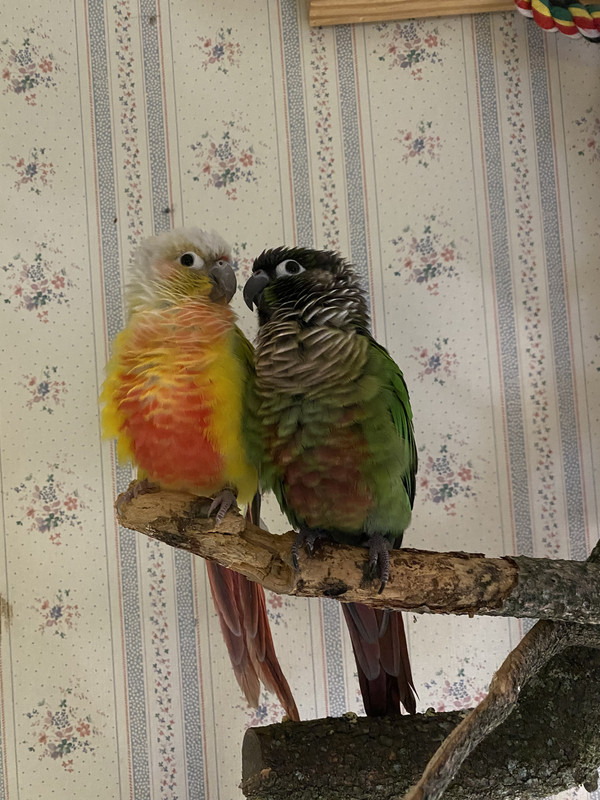 ---