Feb. 28, 2021, 11:15 a.m.
|
Public
Have a weekly Zoom chat OR have a discussion board. Don't have both.
Actually, just get rid of the discussion board altogether. Because literally every single one of them boils down to this: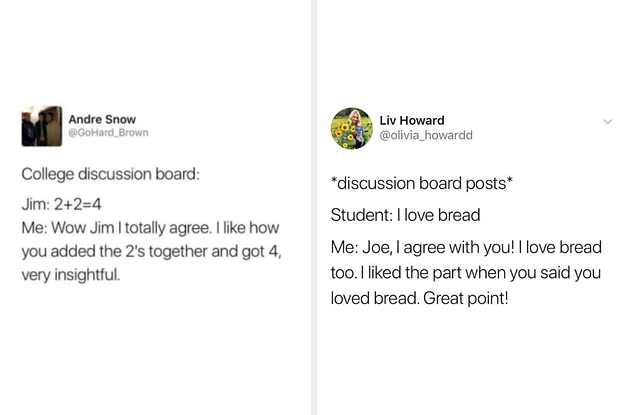 Have a graded, hour-long Zoom meeting. It's more productive, and students can actually disagree with each other. (I'm not kidding, I got reported to a professor for "abusive behavior" in an online class once, because I said I disagreed with the interpretation of a passage. Gen Z doesn't know how to handle disagreements, and they really don't understand that disagreements are part of a normal discourse.)
OR! Here's an idea. GRADE ON THE ASSIGNMENTS AND TESTS. That's all you need to do! Those two things will show you if students understand the discussion. The discussion board is the stupidest thing I've seen online, and I've seen Parler.
---