Bathroom pic + weekend in 2020
May 4, 2020, 10:48 a.m.
|
Public
I painted my bathroom this weekend!
I always forget how much I hate painting until I'm in the middle of the project. But it's done. And I like it.
Before:

After:

It seems brighter in the pics than it is in person but eh. It's a nice color in person.
I ordered new decor too for the other wall not pictured.

White trim though. And I got the stuff to fill it. They come on Wednesday :)
So bathroom is done!
I just have a ton of other projects to get done. I'm REALLY excited to get my bedroom in order. I really don't know what color I want to paint it but I think I found a bed and I'm really excited about that. See. Andy has a nice set of furniture he moved in and we're wanting to match the bed to it … but it's harder than it seems.
One picture I have of the mess I call a bedroom.
I have white furniture (seen to the right) but now that his darker furniture is in the room, I really need to paint it a lighter color. He has one more piece of furniture we can bring over so I can use that instead of my white dresser so it actually matches.
And the bed I found is: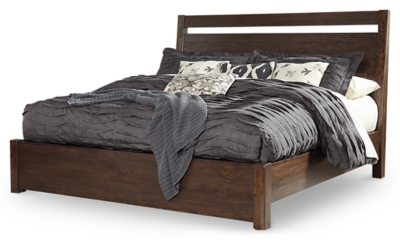 It looks darker but I think it's close enough??
Bedroom project:
Paint
New bed
New curtains/shades
New bedding
Hang TV
Actually put some things up on the wall? I have no decor.
I have kitchen projects but my next #1 priority is outside. Landscaping and keeping up a nice yard. We planted some grass this weekend. My grass sucks. If this attempt doesn't work then I'm sucking it up and paying someone to fix it.
Anyway!
The weekend was good. We had his daughter but she was content actually staying in her room. Like… she's NEVER done that. Usually she's very clingy and right on you but Saturday, she woke up at 9 something, got her iPad and went back to bed. Stayed in bed until.... 2ish when we went to the store.... immediately walked straight into the bedroom once we got home until dinner time. She came out for a little bit and of course when it was "bedtime" she "fought" it complaining that she didn't get a dessert. It was 10pm. Too late for a dessert now. But then she went to bed and she slept until 10- when she had to be woken up to go home.
Andy made ribs for dinner. They were okay. I haven't found a sugar free BBQ sauce that I LOVE yet. We should try dry rub more. I attempted a cauliflower "mac and cheese" and failed (went in with no recipe).
Tonight is "clean out the fridge night" so either hot dogs or eggs. Lol. I think we might have frozen meatballs too. I told him we can't get new food until this is gone. There's this soup I made last week and I just want it again. It's so good. Sausage, kale, mushroom soup.
Anyway. I really have to go.
---