Opinions please! (Pics) in 2020
April 29, 2020, 10:05 a.m.
|
Public
Because I'm incapable of making my own choices when it comes to paint colors.
I want to paint my bathroom.
This weekend. I'm struggling with doing nothing and I need projects. We have Andy's daughter again and I KNOW it'll be VIDEO GAME NONSTOP ALL DAY LONG weekend so… I need to paint it to do something else besides sit there and be angry. I wanted to hold off until this thing passed and it was safer to go to stores but I'm being selfish for once.
I just don't know what color.
See. The thing is… I really love my shower curtain and I want to base the color choice off of it. There's a lot of options.
The only pic I have of shower curtain.
The only pic I have of the current color. I was thinking like a darker green or a darker purple? I don't want it a really light purple. Oh. I have a white wainscoting around the entire bathroom so there's a lot of white. That's why I was thinking it wouldn't be too dark.
Anyway.
Maybe something like these:

I like this one better.
Or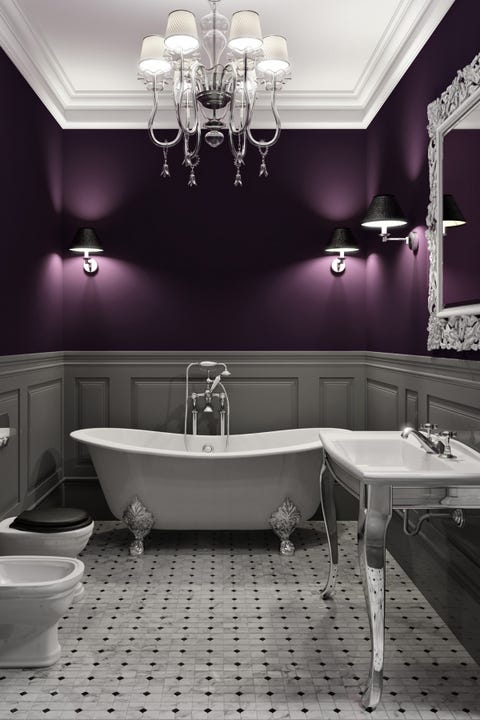 (I wish my bathroom looked like THAT). But I also like this color better.
My sister threw out a "peach" color which I don't even hate?
I just have too much blue going on in my house.
Bonus pics:
Andy's senior pic. Lol. I love it so much.
It's my contact pic for him.
I BUZZED HIS HAIR. First time I ever buzzed hair. First time I ever seen him with buzzed hair. I kind of love it. And his eyessssssssss. Ugh. Heart.
We installed back lighting to the TV. Lol.
I mean… it's a fun $10 spent. And it works with Alexa so I enjoy it.
Anyway. Paint colors?
---